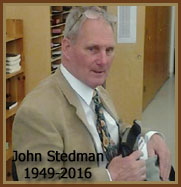 On Sunday, June 5, 2016, the JONAH Community heard the sad and shocking news that our JONAH organizer, John Stedman, died after suffering a massive heart attack.
John's passing leaves a huge hole in many lives.  Of course, there is John's wife and daughter, Sharon and Malia.  There are the members of First Presbyterian Church, where John was more than a pillar.  There is the JONAH organization, which John has organized brilliantly and wisely.  There are his organizing colleagues in WISDOM, the people from the Obesity Prevention Initiative project, and partners in the public health work for the poor and marginalized.  There is EXPO (ExPrisoners Organizing), which John was instrumental in helping to establish.  Maybe, most of all, there are countless people in recovery, for whom John has been a rock solid support and a living testimony that there is abundant life on the other side of addiction.
Here are a few excerpts from tributes to John:
 "I know that there are countless people in Eau Claire and across the state who have been touched by John professionally and personally.  He demanded, in his quiet way, and sometimes in his passionate way, that we think and act differently."

" I have learned so much from John, and especially I have learned to step forward with confidence and courage in the face of need and injustice. John had a way of making me feel both uncomfortable and loved, a rare gift, I think. He gave me the sense that what I was doing was right but it could always be a little better. I needed that push often and will miss that."
"In his commencement address to Oberlin College graduates in 1965, Dr. Martin Luther King, Jr said, "Somewhere we must come to see that human progress never rolls in on wheels of inevitability. It comes through the tireless efforts and the persistent work of dedicated individuals. Without this hard work, time becomes an ally of the primitive forces of social stagnation. So we must help time and realize that the time is always right to do right." John Stedman knew this and sadly for our world, John has run out of time. I believe that John would want us to answer this question, 'What are we going to do to help time for we also have no idea of the time that remains for us.'"
To learn more about John's life, read his obituary and the article about John published in the Eau Claire Leader-Telegram after his death. Also, view the youtube video where you will get a look at John's passion for social justice.
A memorial fund has been established in John's name.  In an attempt to match John's penchant for naming things creatively, it is called the "Stedman Step-Up Scholarship Fund."  The money will be used to provide a scholarship to Gamaliel Weeklong Leadership Training each year.  Preference will be given to people in recovery from addictions.  To donate to the Stedman Fund, you can mail contributions to:
WISDOM
2821 N. 4th St., #539
Milwaukee, WI.  53212
or, you can make donations online via www.rocwisconsin.org
It is JONAH's and WISDOM's hope that part of John's rich legacy will be a steady stream of new community leaders who personify hope, as John did.