Stories reveal our common values, aspirations, and interconnectedness. They also help us to appreciate our differences.
Did you know that in Madagascar ripe mangoes are picked using a long stick? I didn't, until Mita described his first return journey to his native land and mentioned his goal to someday use a pole to pick a ripe mango in Madagascar.  Though Mita was born in Madagascar, he grew up in the upper Midwest, graduated from Memorial High School, and just finished his freshman year at St. Olaf college.  Mita sat at the "World" or "Whirled Table" at the L. E. Phillips Library, described his previous summer's journey to Madagascar and learned about others' migration stories . . . including Dave Anderson's Norwegian ancestry.  Did you know that Dave Anderson's great grandparents' names were Ole and Lena Olson?  It's true!
Like Mita and Dave, you too are invited to sit at the "Whirled/World Table" and share your "migration story".   The table is situated on the second floor of the library in the midst of a wide variety of summer art installations that depict the theme of "Migration".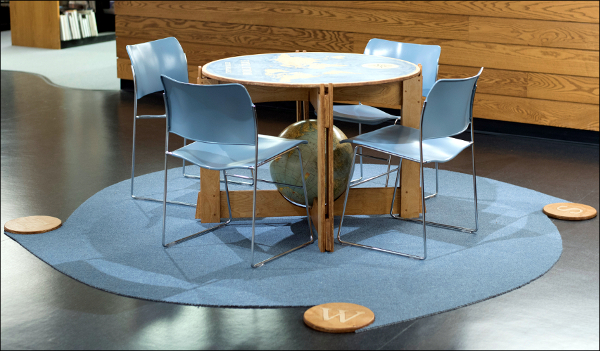 The Whirled Table is a collaboration among the JONAH Immigration Task Force and local artists Mark Ruddy, Marguerite Gilbertson, and Amanda Korval. It provides an opportunity for us to intentionally meet others and begin to build relationships with those whose stories are different than ours.
As Mark Ruddy, JONAH member and sculptor of the mobile table, explained, "Be seated in a chair and enjoy the opportunity to tell your migration story and/or listen to another's story of migration.  Rather than silently building a literal or figurative wall between yourself and another person who has come to the Chippewa Valley from another country or culture, you can be open to stories that reveal our common values, aspirations and our interconnectedness. Our stories individualize and humanize our actions, one person at a time, which can lead to understanding."
To create "art" you're invited to sit at the table and share stories of immigration, moving, and migration
with other visitors to the exhibit. To participate, simply sit down at the table and start a conversation! Since it can sometimes be challenging to speak with people we don't know, here are some tips:
 Use the "You're invited" signs to let other visitors know you're open for a conversation
Invite someone you'd like to get to know to come down to the library and sit at the Whirled Table with you.
If you don't know how to begin, use one of the "conversation starter" options.
Read or make comments in the provided booklet: Who are you? What did you learn from your conversation?
Post a photo on Instagram at #WIWorldTable.  Take a look at other postings of those who sat here.
If you enjoyed your experience at the Whirled Table, Joyce Anderson can help you bring the art experience into the wider world. Joyce is available to help you:
Record your migration story
Host The Whirled Table at a park, your place of business, or a different environment when this library show ends on August 26th
Use the Whirled Table to connect with members of your neighborhood, faith community, organization, etc.
Contact Joyce at joyce4334@gmail.com