Environmental
Eco-Spirituality Working Group
What was once the JONAH Environmental Task Force has become a part of the newly-formed Eco-Spirituality Working Group of the Chippewa Valley. The energy of this working group will be focused on creating community-wide dialogue and action based on Pope Francis' Encyclical Letter, Laudato Si, "On Care For Our Common Home." The Eco-Spirituality Working Group 2018-19 Goals include: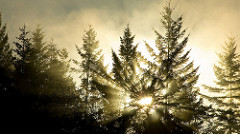 1. Assist in developing small group discussion outlines and materials to be used by individuals and community groups to alter the dominant environmental narratives. These smaller discussions will culminate in community-wide actions that reflect our shared "care for our common home."
2. Advance the environmental agenda of Pope Francis as outlined in his Encyclical.
3. Seek community acknowledgement of our common responsibility for care of the physical world -"Our Common Home"-and its inhabitants; the concern for the needs of the poor, and the support of an integral spirituality of ecology.
Contact Pastor Michael Wollman at: 715-834-2959 or Pastor Dean Simpson at: 715-832-9713 to be put on our email list for all updates and information.