The JONAH Environmental Task Force:
looks at how our values lead us to tend to the environment and make a difference locally

provides public education on various topics around the environment

works with congregations and community groups to work on needed areas, support others
efforts, build collaboration and relationship, and applies JONAH's upstream efforts to the environment.
Contact Sue Waits at waitsr@charter.net to receive information on how you can get involved.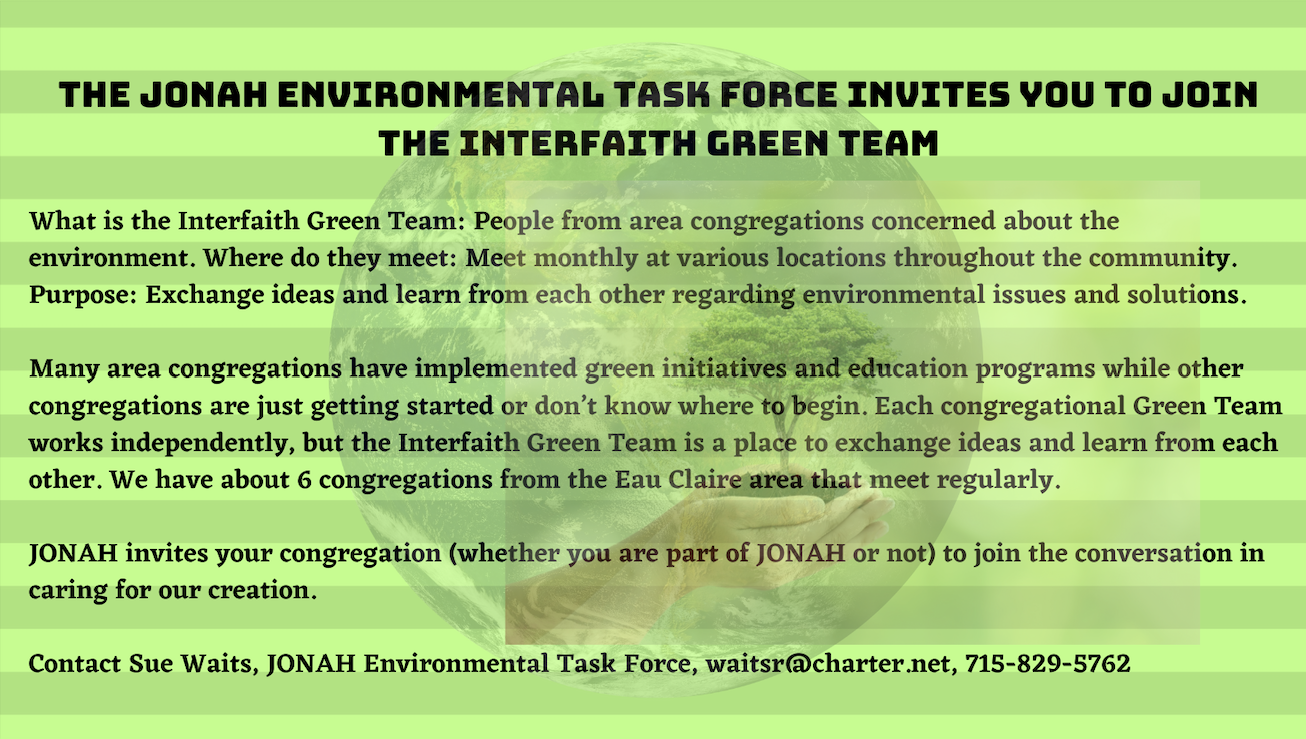 Currently, the task force is focused on the following three environmental issues:
1. Environmentally Friendly Lawn Care
We all want a nice green lawn, but this comes with a price. Many of the pesticides and herbicides used to create that nice green lawn are harmful to animals, bees, waterways and groundwater.
The Environmentally Friendly Lawn care committee is reviewing how we as a city and homeowner can minimize or completely reduce the use of pesticides and herbicides for lawn care. This is a healthier and more sustainable practice for humans as well as the animals and bees that we share this space with.
2. Plastics.
Plastics are a major part of our lives and are in everything from our cars, computers to health care tools. We can't rid our lives of all plastic, but we can reduce our use of single use plastic or those items that we briefly use once and then throw away. For example, the average lifespan for a plastic bag is 12 minutes for a grand total of 30 billion grocery bags each year in USA.
Poor recycling habits, contamination and reduced market has made recycling difficult and it is estimated that only about 8% of plastics are actually recycled. Many communities are making changes to their recycling programs as it is just too costly to maintain. To have an impact on our plastic waste in our community, we need to shift our focus from recycling to reducing.
The Plastics committee is working on ways to inform the community on alternatives to single use plastics so each person can do their part to REDUCE their use of single use plastics.
On a larger scale, the Plastics committee is rallying support for the federal legislation that was introduced in February 2020, called the Break Free from Plastics Act. This is a comprehensive solution that adds responsibility to the corporations creating the single use plastics.We invite you to learn more about this and to support this legislation by contacting your elected officials. https://www.beyondplastics.org/.
3. Composting
It is estimated that 35% of our local landfill is used by food waste. The food waste not only uses valuable landfill space, but contributes to greenhouse gases ultimately contributing to climate change. Composting is a simple solution to divert this food waste away from the landfill.
The Environmental Task force is just beginning to review how composting could be practical in our community. There are some areas of the country where curbside composting is as common as putting out the trash. Curbside composting is available in our community, but is not widespread. Also, how can restaurants, businesses, schools take part in composting. All questions we can work with other groups in our community to answer.