Since 2007, JONAH has been working with people, agencies and organizations to help make our communities healthier, safer and better places for everyone to live and work. We believe that our work is about building community and building capacity to address root causes of poverty and injustice. We come together for this important and public work because when every one person does better, everyone does better.
Where we've been most successful, a couple of essential conditions have been met:
Organic - Issues or initiatives determined and embraced locally
Leader-Led - People or constituencies most affected by the issue (those with 'real world' experience) are at the center of the effort
Empowerment - Actions have been driven by a trained & well-equipped team of leaders
Relational – There has been an ongoing commitment to relationship development and building strategic public partnerships, alliances and partnerships
The pursuit of justice has brought together many people who might not otherwise mix to try to answer questions of how we are called to respond to really BIG systemic issues like poverty, environment, immigration, health, transit and criminal justice reform. A significant and ongoing challenge for us is finding ways to take meaningful action that will begin to mitigate disparities and move us closer to our vision of health, shared prosperity for all.
JONAH is intentionally non-partisan, and known for organizing public conversations about things that matter to people that are both civic and civil. Historically, JONAH has scored successes or sought significant change to our criminal justice system, recycling practices, predatory payday lending, and many aspects of faithful economics. We seek continually to forge new and strengthen relationships with existing public structures like schools, government public health and labor.
We are an interfaith organization welcoming all people to come to justice work because of their faith values (not religious), and part of a larger statewide and national network of groups doing faith-based community organizing. Our board is comprised of the following member institutions, and always open to more:
Eau Claire Catholic Deanery (9 parishes)
Eau Claire Friends
First Congregational UCC
First Presbyterian
Grace Lutheran
Hope United Methodist
Immanuel Lutheran
Lutheran Church of the Good Shephard
Spirit Lutheran
St Johns Lutheran
Temple Sholom
Trinity Lutheran
Unitarian Universalist Congregation
Unity of Eau Claire
Learn even more about us in our annual yearbooks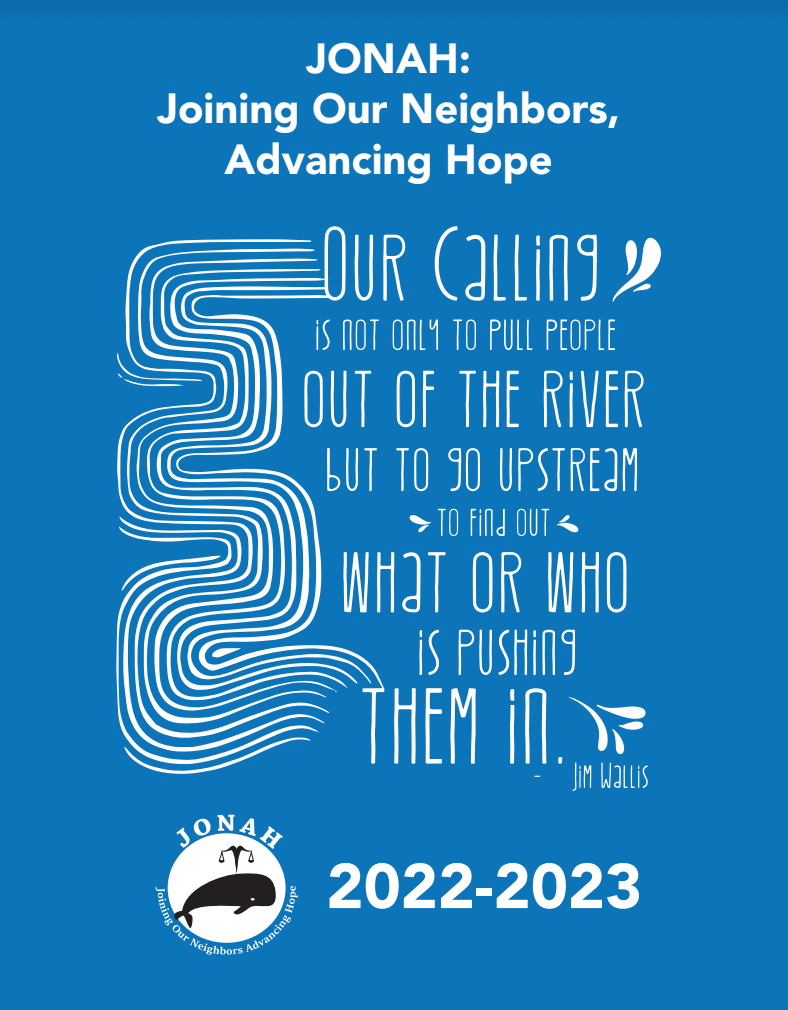 Find us on Facebook!
JONAH Facebook page for all things JONAH
JONAH Affordable Housing Facebook page 
JONAH Child Poverty Facebook page 
JONAH Immigration Facebook page 
JONAH Environmental page: Coming Soon!
We want to hear from YOU!
Do you have a question about JONAH's work or services? Are you seeking support or training to address a community issue affecting you or a loved one?
Contact our organizer, Lynn Buske!
[email protected]
715-497-8732