4-H, Scouts, students and families will enjoy this activity. Encourage your friends & family to join in!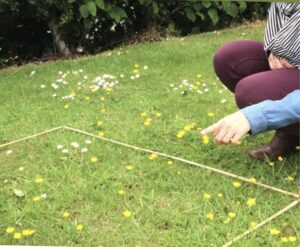 By collecting Citizen Science data on unmown turf lawns, we can better understand the benefits of No Mow May for Chippewa Valley's native pollinators.
Want to learn from a Biologist how scientists measure a quadrat? Come to our training (ages 8 and above) May 20th 1-3 at Forest Park Pavillion. Reservations Appreciated! (click here)
Collect data between May 15 and June 15th to assure the grass and flowers have had enough time to grow.
Instructions:
Data Collection takes place May 15- June 15
Select a turf lawn section that has not yet been mowed.
Mark off a one square yard "quadrat" at least 4 feet from the lawn edges
Using sticks (bamboo skewers work well) or rocks, mark off the corners. The diagonals (corner to opposite corner across the center) and all sides should be 3' apart.
Each participant may collect data on up to 10 quadrats.
Use this form to record each on-site quadrat's data.
Refer to this bee list to learn about common native bees
Enter the data into the Every Flower Counts online data collection page.