On a warm, autumn afternoon, Terri Lorenz welcomed us into her home to talk about her experience with Treatment Court. Holding her beautiful baby boy on her lap, she shared her story, experiences, and her motivation to keep moving forward.
Terri experienced AIM Court. AIM, Alternatives to Incarcerating Mothers, seeks to pr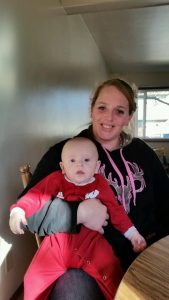 event the damage that a family can experience while mothers are incarcerated. Its goal is to help the participant break the cycle of substance abuse by offering effective sanctions, rewards, care, and treatment programming and by increasing employment stability. On its website, its benefits are listed as intense monitoring, resources, individualization, support, less jail time, and an ongoing sober support community. It was started in 2007 as a response to the growing number of women who were homeless, struggling with alcohol and drugs, and in need of child welfare services.
Terri's experience in AIM Court is an interesting case. Typically, people are referred to AIM Court either by a judge, district attorney, public defender, private attorney, or corrections. Terri requested treatment court on her own. After initially hearing about AIM Court while incarcerated, she had her case reopened to enter treatment court after already being sentenced to two years' probation. She felt AIM Court was what she needed in order to improve her life. She viewed Court a few times in early February 2015 and officially began Court at the end of that month. She knew she needed some sort of treatment to maintain sobriety and needed to do outpatient treatment in hopes of regaining custody of her children who were residing in Kentucky.
To get into AIM, she met with a specially trained evaluator to conduct an interview and assessments to determine her eligibility. Once that was completed and a Terri was found eligible, she met with a judge, a case manager, and a woman from Women's Way. Throughout the program, she received evidence-based treatment services and underwent random drug testing.
What she liked about the program was the structure that it gave to her life. Because of AIM, she had daily appointments and had to attend Court once weekly when first starting the program. There were also DBT, dialectical behavior therapy, groups which Terri had to attend once a week for 24 weeks before graduating. She also completed an eight-week trauma group. "Moving On" was a relationship group she attended that taught her how to maintain relationships with others, look for healthy relationships, and be assertive within those relationships rather than passive-aggressive. These groups, along with AIM Court and meeting with the AIM Court coordinator and the probation agent weekly, are required.
She credits AIM Court for giving her the tools to stop and think before making any life-changing decisions. Those who are addicts or recovering addicts, she said, are impulsive thinkers, and learning to stop and think helped her figure out what road to take without going back to using. She attends AA meetings when she has the chance and has chaired meetings. She is also involved in EXPO and attends JONAH events. Terri is active with the Bolton Refuge House through support groups, and recently spoke to the media about domestic violence. She is a survivor of seven years of abuse and talks to other women about surviving. Currently, she mentors for Court because if "[she] can do it, and stay sober for two years and get custody of her kids back, the next person can. It's difficult, but [she] wants to be the one that stands there and shows them that it's possible and that there's hope." As a mentor, Terri gives her mentee rides to meetings, makes sure she attends them, and provides support similar to the way of a sponsor. She is currently on Step 11, and at the end of that step she will be eligible to become a sponsor. Being involved and giving back to the community makes her feel good because she can spread awareness to these issues and serve as a role model for those looking to better their lives. She has stability, her own place, her own car that she paid for, and, most importantly, she has regained custody of one of her children, a daughter, and is in the process of gaining custody of another, "all thanks to Treatment Court."
For those that are seeking treatment, Terri's advice is to "give it your all or nothing. It will be harder to succeed if you don't put your all into it." For those who are currently in Treatment Court, she says to "give it your all and comply. There are great benefits to complying and graduating. There is a whole new life out there that you don't see in the drug world." For mothers, it is an opportunity to have their children back in their home, which is her greatest accomplishment.