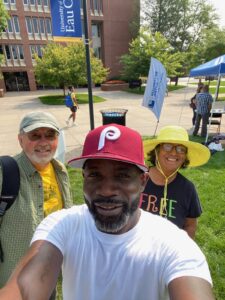 Segdrick Farley is the new Fellow Organizer of EXPO of Wisconsin. He has decided to use his own experience to help others finding themselves in similar situations. He is a dedicated man working for a better tomorrow and hopes to leave his own legacy for others to follow. Here is a short summary of how he came to be a part of EXPO.
Segdrick has known Jerome Dillard, the Director, for many years and has always seen Jerome as a leader and a big brother while he was incarcerated. At 19 Segdrick was sentenced to 30 years in prison and avoided a life sentence. He served 21 years of that sentence. (Self-reflect: Can you imagine how much you have done in 21 years?) He has been released for a little over two years now, partly due to the efforts of EXPO of Wisconsin. He relocated from Milwaukee Wisconsin, upon his release, to Eau Claire Wisconsin to begin a new life at the age of 40. He is married with 2 small children.
He is currently studying constitutional law at CVTC as he plans on going to law school. He is also a peer support specialist for CC We Adapt, an On Site Coordinator at The Community Table, and he is the Co Chairperson for the WVRC in collaboration with several organizations to restore voting rights to marginalized communities. He is very passionate about a lot of the work he does because he understands how being disenfranchised can have a butterfly effect that can lead to incarceration and poverty. Helping people find their voices is a form of therapy and redemption for him. He has spoken at many events in efforts to create a bridge between people who have been disenfranchised with those who have never lived or seen what it's like.
He received "The Correcting The Narrative" awards recently for his efforts. He believes that in itself, it shows that just because someone has been incarcerated doesn't mean that they are dangerous or horrible people that don't deserve dignity and opportunity. He believes that life rebirths itself every time the sun rises. He understands that he may not see all the things we all work so hard to change in our current lifetime so his aim is for the generations that follow behind him to look at his efforts and pass it down. With this will-power, imagine all of the things we can look forward to Segdrick accomplishing.