By Mike Steuer, Executive Vice President
I don't know exactly why I enjoyed this year's event, "Making It Happen," more than past events. Maybe it was the long absence of being together in person, but some things stuck with me that made it special.
The venue and physical layout were exceptional! The Brewing Projekt space was very comfortable and less frenetic than our previous venues. There seemed to be more room to maneuver between and around the tables as well.
Strangely, even though the presenters were appearing remotely, I felt more connected to them because I could see the expressions on their faces as they spoke, whereas I was usually sitting far enough away from in person speakers at past events that I could not see this. The topics and presentations themselves were very interesting and engaging to me. Their titles were: Housing Solutions for People and Families with Disabilities, WisHope's Rapid Response Program in Sauk County, and Our Trash Runs Through Our Veins.
This was the first time we tried hybrid for this event. Online viewers rightfully complained that they couldn't see or hear the speakers as well as they would have liked and wanted to be able to participate more. We'll have to figure out how to communicate the expectations of different platforms and create an engaging hybrid experience.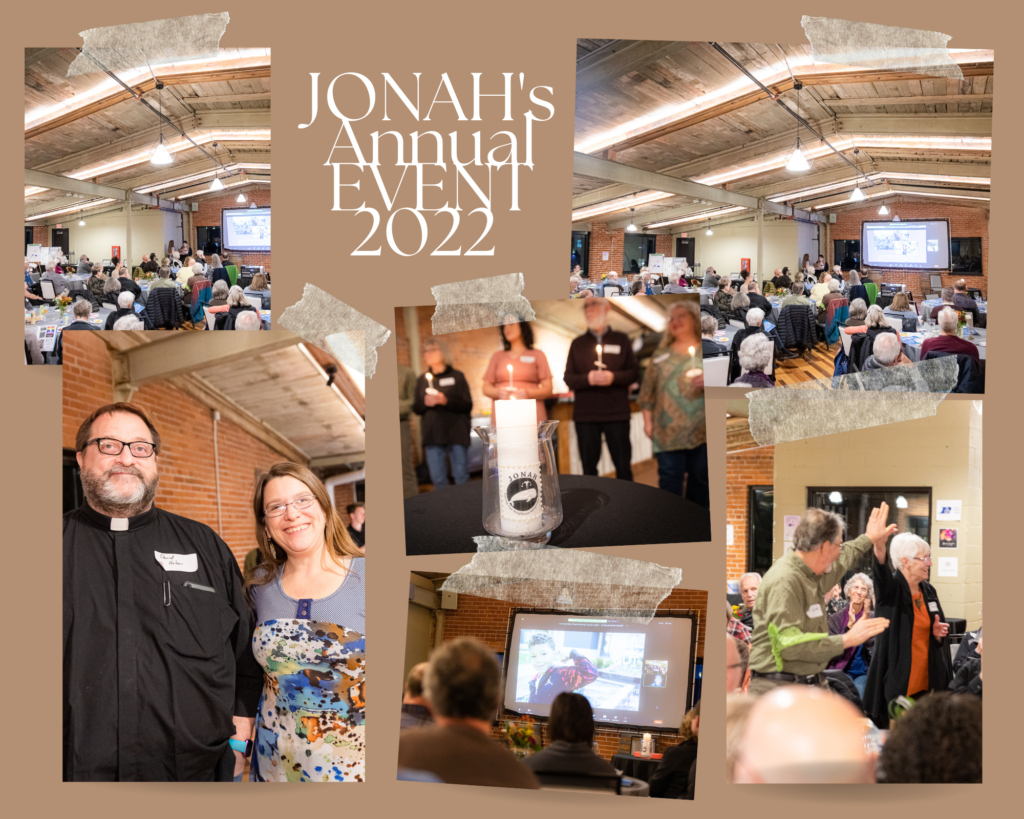 People have said that they wanted to hear from all the task forces and were disappointed that this didn't happen. JONAH has SEVEN task forces doing so much great work. I enjoyed walking around and engaging more personally with each task force – I didn't get to talk to them all! I'm sure we can creatively find ways to better share the task force efforts. I know the new Events Committee is looking at doing regular issue education nights in 2023. I hope everyone is on Jonah's email list where there are more frequent summary reports of activities.
Overall, I felt more connected in general because more attendees seemed to know me and I knew more of them. You don't get that with other organization experiences – there's something about the way we relate in JONAH. And the food was GREAT!
Finally, the candle ceremony felt more intimate this year. It was good to really honor our congregation members and see them standing together in unity.