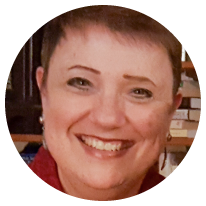 What is your favorite thing about JONAH?
No one does this work alone. I am a lifelong community advocate and grass roots activist. For me, JONAH is a protective group of like-minded grassroots social justice advocates that work within the same set of values, beginning with relationships being at the center of the work and then walking out the talk of radical inclusiveness and equity building. I have little patience for talking without action. I have found a home with those that walk while they talk.

How did you get involved?
My roots with JONAH began in early 2016, with the Criminal Justice Reform Team (CJRT), working closely with Mark Ruddy, Audrey Nelson, Jackie Christner, and Sarah Ferber. We then advocated for the CJRT to partner with Chippewa Valley EXPO which was a powerful vehicle for criminal justice transformational change in the Chippewa Valley. In 2018, Paul Savides, Judi Moseley and myself formed the core team of the JONAH Affordable Housing Task Force. On June 18th, we had our first Task Force Meeting at First Congo Church. Our mission is to facilitate culture change in Eau Claire City and County so that all stakeholders, centering those most impacted, are informed about the lack of safe, good quality, affordable housing and are motivated to take actions to address it through public and private initiatives. On September 24th, 2018, three months later, we organized the City Council's first Monday Public Hearing and it was focused on affordable housing. From that day, affordable housing has risen to the top of our city's priority list.

What have you all been involved in?
These are selected accomplishments of our Core Team and Task Force: Developing a Tenant-Landlord Resource Center which received $100,000 of County ARPA funding; our website is near completion. Advocated with City Council members and staff for the creation of the Housing Opportunities Commission; Judi Moseley is currently the Chair. I sit on the Plan Commission lifting up affordability as developments come forward. Our Core Team and Task Force regularly provide public comment at City Council Meetings advocating for affordable housing. Organized and provided leadership and facilitation of the Cooling Center/Warming Center Advisory Committee, with November 1, 2022 opening. Organized and provided leadership and facilitation of a community Stakeholder Steering Committee to develop a Day Resource Center for our neighbors experiencing homelessness-anticipated operational target date in November of 2025. Provided advocacy, support, and collaboration for area groups: Pablo Properties (low-income housing efforts), Oak Ridge Mobile Home Court, and collaborated with developers of affordable housing proposals (Mt. Washington, Prairie Heights, Wilson Square, Cannery Trails Residences, Water St Flats, Millwood Crossing, No Boundaries, Hope Village, Fountain Uppers, Sawmill Flats). Collaborated with City of Altoona in the development of Solis Circle, Trained and certified one member of the core team to provide mediation services and to be able to train volunteers to mediate in landlord tenant disputes. Training and certification provided by UW-Madison. Organized a Maples Mobile Home Park stakeholders meeting to discuss the aftermath of the sale and relocation of residents. The focus was on learning from the experience and making changes in policies and processes so that we can prevent some of the drastic problems that occurred at Maples. Worked with City and County officials to advocate for better housing opportunities for residents of the Regency Hotel. Collaborated with the City of EC and UCP to develop a pilot project called the Landlord Support Program. Advocated statewide with WISDOM for increased public funding for affordable housing and legislation that would reduce barriers to affordable housing and reduce discrimination against housing applicants.

Why do you stay involved?
The short answer is that "I cannot not stay involved". It is in my DNA.

What are you looking forward to?
Every day I look forward to moving our community forward one small step in providing affordable housing for everyone, beginning with our most vulnerable. I often say, "housing advocacy is not for the faint of heart and can break your heart…it is the long game".

What are your Hobbies/Activities?
I meditate regularly; self-care is central when doing this work. I am a rabid reader of non-fiction with 10 books at my bedside at any one time. I enjoy spending time on the Mississippi River and going up the North Shore to Grand Marais, and conversations with friends, often at the Acoustic Café.

What local business do you like to support?
The Acoustic Café because of its inclusiveness and atmosphere of "Welcome" for our unhoused neighbors as well; Power of Perception and CCWEADAPT because of their commitment to mentoring and empowering our youth.
Do you have someone in JONAH you'd like to nominate for their good work or learn more about? Contact Perla at perlaecj@gmail.com.