By Shannon Severud, JONAH intern
      I recently attended a BRAIN Conference in Eau Claire where I heard two doctors- Dipesh Navsaria and JONAH's very own John Wagner- speak about the amazing potential of a developing brain and how early childhood brain development can shape a child's entire future. It was a wonderful conference that highlighted the importance of reducing trauma and toxic stress in children and their environments so their brains can develop properly and they can grow into healthy adults and productive members of society.
      However, many children do not grow up in an environment that is conducive to optimum brain development. There are many hardships families face that can negatively affect children and their brain development. One of the biggest struggles facing families is poverty.
      The Organization for Economic Cooperation and Development (OECD) ranked the United States as having the 10th highest poverty rate (of 37 countries) in 2021. The US poverty rate according to this ranking was 15.1%. Finland and the Czech Republic had the lowest poverty rates of the countries studied at 5.6 %. Although the United States is one of the wealthiest countries in the world, it still has a high poverty rate.
      Poverty is measured using income thresholds and the Federal Poverty Limit was set by the Social Security Administration in 1963. However, the Federal Poverty Limit has not changed much with the cost of living over time. It does not include a number of more modern costs like childcare and housing. The ALICE threshold, however, is set by the United Way and includes the current costs of living. The ALICE threshold represents the minimum income level necessary for survival for a household in a certain region. Many families live on the edge of the ALICE threshold- if there is a slight increase in any of their bills or something unexpected comes up, it can cause them to not be able to meet their basic needs. Here are some regional comparisons for a family of 4 in 2018 using the two thresholds:
Federal Poverty Limit   Threshold= $25,100 (hourly wage=$12.07)
ALICE (WI average)      Threshold=$68,472 (hourly wage=$32.92)
ALICE (WI- Eau Claire county) Threshold=$69,828 (hourly wage=$33.57)
WI median wage    $60, 773 (hourly wage=$29.22)
WI minimum wage   $7.25/hour
      Some of the federal policies and programs in the US that have been successful in reducing poverty are: EITC (Earned Income Tax Credit- a tax credit for low to medium-income workers), CTC (Child Tax Credit- families receive a tax credit for each child in their household), SNAP (Supplemental Nutrition Assistance Program- formerly known as food stamps- gives money to help pay for groceries), and Medicaid (provides health coverage to low-income adults, children, pregnant women, elderly adults and people with disabilities). Successful state programs include Foodshare (WI's SNAP program), BadgerCare (WI's Medicaid program), and WHEAP (WI Housing and Energy Assistance Program- assists with heating and electric bills, and energy crisis situations). Another program that helped reduce poverty was the CARES Act. These payments started in response to the pandemic and were made directly to families with children for six months and in a lump sum for an additional 6 months paid in the spring. Census data reported that these payments to families helped cut child poverty by 36%, reduce food insecurity for many children, and increase a family's emergency financial cushion.
      Poverty, especially generational poverty, can have very detrimental long-term effects on children. Children, especially very young children, are the most vulnerable people in our society. When a child grows up experiencing poverty, it can greatly increase the likelihood of the child experiencing ACEs (Adverse Childhood Experiences). Continuing to work to reduce poverty is one of the ways to decrease childhood ACEs. Supportive childhood experiences can also increase a child's resilience and reduce ACEs too.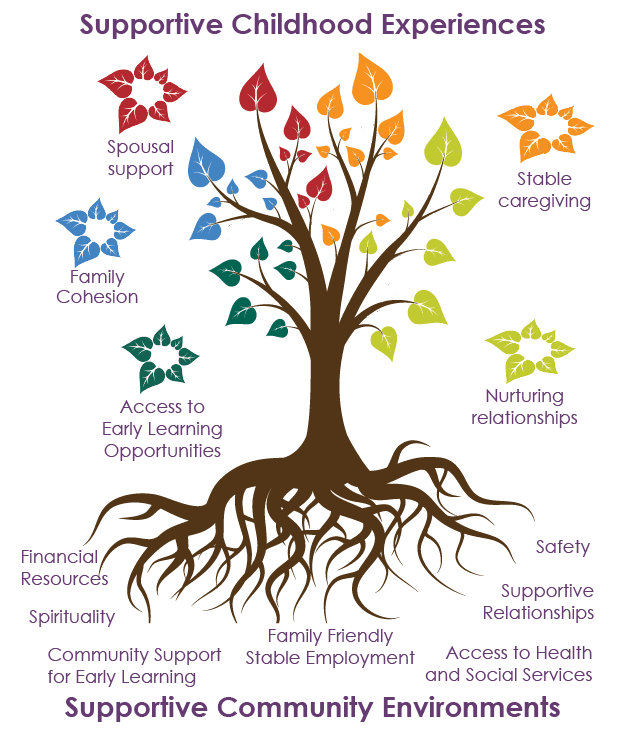 Image: firstsnapa.org
      JONAH works to promote programs and policies that reduce poverty as well as advocating for support for families and healthy community supports for children and families. As many of us know, many families with children are in need right here in the Chippewa Valley. The JONAH Child Poverty Task Force is an opportunity to bring forth our concerns regarding the complex issues that are part of child poverty. John Wagner is the chairperson of this task force and would love to hear from anyone who is interested in child poverty, childhood brain development, and other issues pertaining to child poverty. I encourage you to contact him (jwagner@chipvalley.com). It is very important that we continue this work now because it has the ability to help the development of future generations.OECD 2021 report: https://www.statista.com/statistics/233910/poverty-rates-in-oecd-countries/